Holter and Event Monitors
When the best heart doctors in Hudson County attempt to diagnose arrhythmias(abnormal heart rhythms), one of the problems they have to deal with is the short "snapshot" provided of the heart's electrical activity by standard electrocardiogram (ECG or EKG) readings. These tests are useful, but they record your heart activity only in short, 3-to-5-second bursts. This short measurement time may reveal no abnormal electrical activity while you are sitting quietly in the doctor's office, but arrhythmias may appear later during the day as you go about your daily activities.
Your heart rate can fluctuate drastically as you experience different activities such as eating, sleeping, exercising, being under stress, and having sex. So in many cases – especially if you have reported symptoms of your heart racing or beating too strongly (palpitations) – your doctors may feel that there is a need to take more extensive measurements over a longer period of time to detect these abnormal rhythms and determine what may be causing them, or to verify the efficacy of certain medications.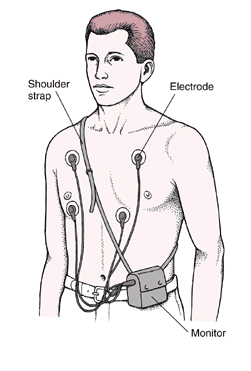 There are several types of "wearable monitors" that can be worn for an extended period of time to provide a longer trace of your heart's electrical activity. These devices are small and can be easily worn – some like a wristwatch, and some under your clothing connected to unobtrusive electrodes attached to your chest. If you have an irregular heartbeat event while wearing one of these devices, you may be asked to call your doctor's offices so the information can be transmitted and analyzed in real time.
Other monitors record your heart's activity for longer periods. Holter monitors, for example, can be worn for 24 hours and then returned to the Cross County Cardiology offices for analysis. If necessary, for example when there is the possibility of dangerous arrhythmias, there are wireless Holter monitors that allow remote analysis.
If the cardiac events we are looking for don't appear during a 24-hour period, your Hudson County heart specialists have other monitors called event recorders that can be worn for up to 30 days, and come with an activation device that you can use to signal the device to start recording if you start to experience palpitations. Your Hudson County cardiologist can then analyze the resulting data to determine what may be causing the abnormal rhythms and how best to treat them.